Yuval Noah Harari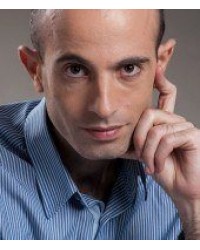 Yuval Noah Harari (24 February 1976) is an Israeli historian and a tenured professor in the Department of History at the Hebrew University of Jerusalem. He is the author of the international bestseller Sapiens: A Brief History of Humankind (2014).
Harari first specialized in medieval history and military history in his studies from 1993 to 1998 at the Hebrew University of Jerusalem. He completed his DPhil degree at Jesus College, Oxford, in 2002 under the supervision of Steven J. Gunn. From 2003 to 2005 he pursued postdoctoral studies in history as a Yad Hanadiv Fellow.
He has since published numerous books and articles, including Special Operations in the Age of Chivalry, The Ultimate Experience: Battlefield Revelations and the Making of Modern War Culture, The Concept of 'Decisive Battles' in World History; and Armchairs, Coffee and Authority: Eye-witnesses and Flesh-witnesses Speak about War. He now specializes in world history and macro-historical processes.
His book Sapiens: A Brief History of Humankind was published in Hebrew in 2011 and then in English in 2014; it has since been translated into some 30 additional languages. The book surveys the entire length of human history, from the evolution of Homo sapiens in the Stone Age up to the political and technological revolutions of the 21st century. The Hebrew edition became a bestseller in Israel, and generated much interest both in the academic community and among the general public, turning Harari into a celebrity. YouTube video clips of Harari's Hebrew lectures on the history of the world have been viewed by tens of thousands of Israelis.
Harari also gives a free online course in English titled A Brief History of Humankind. More than 100,000 people throughout the world have already taken this course.
Harari twice won the Polonsky Prize for Creativity and Originality, in 2009 and 2012. In 2011 he won the Society for Military History's Moncado Award for outstanding articles in military history. In 2012 he was elected to the Young Israeli Academy of Sciences. In 2015 Sapiens was selected by Mark Zuckerberg, the founder of Facebook, for his online book club. Mark invited his followers to read what he describes as "a big history narrative of human civilization".
---
Showing 1 to 3 of 3 (1 Pages)