Yosa Buson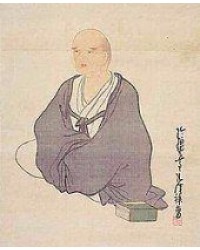 Yosa Buson or Yosa no Buson (1716–1784) was a Japanese poet and painter of the Edo period. Along with Matsuo Bashō and Kobayashi Issa, Buson is considered among the greatest poets of the Edo Period.
Buson was born in the village of Kema in Settsu Province (now Kema-chō, Miyakojima Ward in Osaka city). His original family name was Taniguchi.
Around the age of 20, Buson moved to Edo (now Tokyo) and learned poetry under the tutelage of the haikai master Hayano Hajin. After Hajin died, Buson moved to Shimōsa Province (modern-day Ibaraki Prefecture). Following in the footsteps of his idol, Matsuo Bashō, Buson traveled through the wilds of northern Honshū that had been the inspiration for Bashō's famous travel diary, Oku no Hosomichi (The Narrow Road to the Interior). He published his notes from the trip in 1744, marking the first time he published under the name Buson.
Buson married at the age of 45 and had one daughter, Kuno. From this point on, he remained in Kyoto, writing and teaching poetry at the Sumiya. In 1770, he assumed the haigō (俳号, haiku pen name) of Yahantei (夜半亭, Midnight Studio), which had been the pen name of his teacher Hajin.
Buson died at the age of 68 and was buried at Konpuku-ji in Kyoto.
---
Showing 1 to 1 of 1 (1 Pages)