Jan Potocki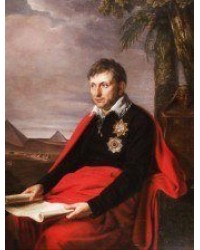 Count Jan Potocki (1761–1815) was a Polish nobleman, Polish Army Captain of Engineers, ethnologist, Egyptologist, linguist, traveler, adventurer, and popular author of the Enlightenment period, whose life and exploits made him a legendary figure in his homeland. Outside Poland he is known chiefly for his novel, The Manuscript Found in Saragossa.
He was born on March 8th, 1761 in Pików in the Podole region, and he committed suicide on December 23rd, 1815 in Uładówka, close to Pików. Potocki was the first Polish archaeologist and a researcher of Slavic antiquities. A scholar, fascinated with new scientific concepts, a freethinker, and an idealist, he was a bright mind who was before his time.
He was born into an aristocratic family. His father was Józef, a great krajczy ("carver", an honorary title) of the crown, one of the leaders of the Radom Confederation. His mother was Teresa Potocka. As a seven-year-old boy, he left the country and started his education in Lausanne and Geneva. He often visited Paris and spoke French very well. Only after returning to Poland in 1778 did he speak Polish again.
He traveled to Turkey and Egypt (1784), The Netherlands (1787), Spain and Morocco (1791), Lower Saxony (1794) and to Caucasus (1797-1798). He served in the Austrian army and fought Berber pirates on the Mediterranean sea. He documented his adventures and some of his notes were translated into Polish by Julian Ursyn Niemcewicz.
After returning to Poland he was appointed as an emissary of the Great Sejm, where he worked actively for the reformers. In September 1788 he created the Drukarnia Wolna ("Free Printing-House"), which published a weekly newspaper, Journal Hebdomadaire de la Diète, reporting on the Sejm debates.
From 1803 Jan Potocki was a member of the Warsaw Society of Friends of Learning. Thanks to the influence of Adam Czartoryski, who was the minister of foreign affairs working for Tsar Alexander I, he was designated as the chair of a research team (linguists, ethnographers, naturalists) next to the Russian mission of 240 members, which was supposed to travel to China in 1805. When the Russian ambassador refused to pay homage to the representative of the Chinese emperor, on February 19th, 1806, the mission had to come back.
He's known chiefly thanks to his philosophical, frame-tale novel The Manuscript Found in Saragossa, a fantastical romance based on Persian and Arabic stories. Three versions of this work existed. The first excerpt, where the action takes place in 13 days, was published by Potocki in Petersburg in the spring of 1805. Another version, from 1804, consists of 45 days and lacking an ending, while the text from 1810 – of 61 days.

---
Showing 1 to 1 of 1 (1 Pages)