Vuk Drašković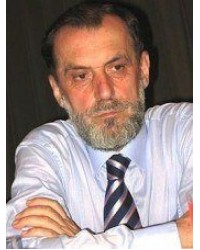 Vuk Drašković (born 29 November 1946) is Serbian writer and politician. He is the leader of the Serbian Renewal Movement, and served as the Deputy Prime Minister of the Federal Republic of Yugoslavia and the Minister of Foreign Affairs of both Serbia and Montenegro and Serbia.
He graduated from the University of Belgrade Faculty of Law in 1968. From 1969-80 he worked as a journalist in the Yugoslav news agency Tanjug. He was a member of the League of Communists of Yugoslavia and worked as the chief of staff of the Yugoslav President Mika Špiljak. He has written several novels.
Born in a small Banat region village to a family of settlers from Herzegovina, Vuk was six months old when his mother Stoja Nikitović died. His father, Vidak, remarried and had two more sons - Rodoljub and Dragan; and three daughters - Radmila, Tanja and Ljiljana with Dara Drašković, meaning that young Vuk grew up with five half-siblings. Shortly after Vuk's birth, the entire family went back to Herzegovina where he finished primary school in the village of Slivlje, before secondary school studies in Gacko. On his father's insistence Drašković considered studying medicine in Sarajevo; however, the city was too "uptight and cramped" for his liking, so he went to study law in Belgrade instead.
etween 1969 and 1978, Drašković was involved with journalism. He first worked for the state news agency Tanjug as its African correspondent stationed in Nairobi, Kenya, before taking a job as press adviser in the Yugoslav Workers Union Council (SSRNJ). During his time at SSRNJ, Drašković spent some time as the personal secretary to the organisation's president Mika Špiljak. During the same period his novels The Judge and Knife were published, raising quite a controversy among Yugoslav ruling communist elites. Soon afterwards, due to popular demand, Prayer and Russian Consul were published as well. Because of his controversial literary engagement, Drašković was considered somewhat of a dissident even though he had been a member of the Yugoslav Communist League (SKJ) since his 4th year of university studies.
---
Showing 1 to 1 of 1 (1 Pages)