Vsevolod Meyerhold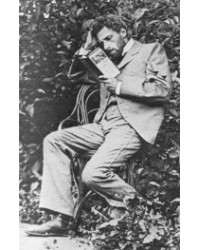 Vsevolod Emilevich Meyerhold (1874 –1940) was a Russian and Soviet theatre director, actor and theatrical producer, one of the greatest names of the world theater in the 20th century His provocative experiments dealing with physical being and symbolism in an unconventional theatre setting made him one of the seminal forces in modern international theatre. During the Great Purge, Meyerhold was arrested, tortured and executed in February 1940.
Vsevolod Meyerhold was born Karl Kasimir Theodor Meierhold in Penza on 28 January o.s. (9 February n.s.) 1874 to Russian-German wine manufacturer Emil Fyodorovich Meierhold, and his Russian-Dutch wife, Alvina Danilovna (née van der Neese). He was the youngest of eight children.
After completing school in 1895, Meiergold studied law at Moscow University but never completed his degree. He was torn between studying theatre or a career as a violinist. However, he failed his audition to become the second violinist in the University orchestra and in 1896 joined the Moscow Philharmonic Dramatic School.
On his 21st birthday, he converted from Lutheranism to Orthodox Christianity and accepted "Vsevolod" as an Orthodox Christian name (after the Russian writer Vsevolod Garshin, whose prose Meyerhold loved)
Meyerhold directed his theatre for nearly a year until his arrest in Leningrad on 20 June 1939. Shortly after that, on 15 July, his wife, the actress Zinaida Reich, was found dying of exsanguination after being brutally stabbed by unknown intruders in her Moscow apartment. Later that year Meyerhold was brutally tortured and forced to confess that he worked for Japanese and British intelligence agencies. He later recanted the confession in a letter to Vyacheslav Molotov.
He was sentenced to death by firing squad on 1 February 1940, and executed the next day. The Soviet Supreme Court cleared him of all charges in 1955, during the first wave of de-Stalinization.
---
Showing 1 to 1 of 1 (1 Pages)