Vladimir Dubkovskiy, Valeria Dubkovskaya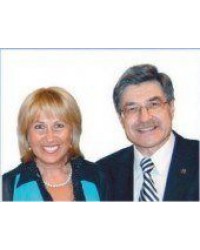 Vladimir Dubkovskiy was born in 1953 in Leningrad (modern day Saint Petersburg), Russian Federation. After graduating from law school at Leningrad State University, he served with the Military Prosecutor's Office as a Captain of Justice. He then worked as a prosecutor in the Investigations Department of the Leningrad Public Prosecutor's Office, was a member of the International Bar Association, a reporter for the newspaper Leningradskaya Pravda, an employee of the Soviet-American joint venture "The Hermitage", and a screenwriter for the first two documentary films about prostitution in the Soviet Union. From 1989 to 1999 he switched to the business world, and was the founder and head of a number of commercial companies which focused on manufacturing, commerce and insurance. In 1999, together with Valeria, his wife and business partner, he founded the School, and then the Academy, of System Business. Branches of the Academy successfully operate in Russia, Ukraine, Belarus, Moldova and Kazakhstan, and tens of thousands of managers from various commercial companies have studied at them. For their achievements in this field, Vladimir and Valeria received 15 awards from the Eurasian Academy of Business including best business-trainers, authors of the best training program, and authors of the best books, of which they have written more than 50, with a total printing run of one and a half million copies.
Valeria Dubkovskaya graduated from the Faculty of Law of Leningrad University, where she studied with Vladimir, for whom she married in 1975. For 12 years, she worked in Leningrad as the head of the Pushkin Department of Civil Status Records, and then became Vladimir's partner in all his affairs. Since 1999, together with Vladimir, she heads the School and the Academy of System Business. She successfully conducts Russian and international seminars. She is the author of many lectures and psychological pieces of training, a brilliant speaker. Full member of the Eurasian Academy of Business, winner of numerous prizes and diplomas for contribution to the training of managers of many companies.

---
Showing 1 to 3 of 3 (1 Pages)