Victor Pelevin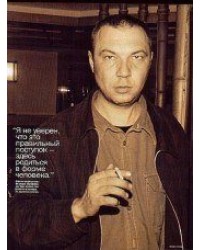 Victor Olegovich Pelevin (born 22 November 1962) is a Russian fiction writer, the author of novels "Omon Ra", "Chapayev and Void" and "Generation P". He is a laureate of multiple literary awards including the Russian Little Booker Prize (1993) and the Russian National Bestseller (2004). His books are multi-layered postmodernist texts fusing elements of pop culture and esoteric philosophies while carrying conventions of the science fiction genre. Some critics relate his prose to the New Sincerity literary movement.
Victor Olegovich Pelevin was born in Moscow on 22 November 1962 to Zinaida Semenovna Efremova, an English teacher, and Oleg Anatolyevich Pelevin, a teacher at the military department of Bauman University. He lived on Tverskoy Boulevard in Moscow, later moving to Chertanovo. In 1979 Pelevin graduated from an elite high school with a special English program located on Stanislavskogo Street in the centre of Moscow, now Kaptsov Gymnasium #1520.
He then attended the Moscow Power Engineering Institute (MPEI) graduating with a degree in electromechanical engineering in 1985. In April of that year MPEI Department of Electrical Transport hired him as engineer. Pelevin served in the Russian Air Force. From 1987 to 1989 Pelevin attended the MPEI graduate school.
Pelevin is often in the east. He has been to Nepal, South Korea, China and Japan. While he does not call himself a Buddhist, he is engaged in Buddhist practices. Pelevin has repeatedly said that despite the fact that his characters use drugs, he is not an addict even though he has experimented with mind-expanding substances in his youth. Pelevin is not married. As of the beginning of the 2000s, he lived in Moscow near Chertanovo.
---
Showing 1 to 2 of 2 (1 Pages)