Victor del Arbol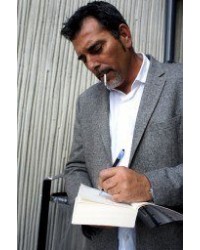 Víctor del Árbol was born in Barcelona in 1968 and worked for the Catalan government between 1992 and 2012. He studied history in the University of Barcelona. El abismo de los sueños (not published) was a finalist in the prestigious Premio Fernando Lara in 2003. In 2006 he won the Premio Tiflos de Novela with El peso de los muertos. In 2011 he published La tristeza del samurái (Editorial Alrevés), which has been translated to 10 different languages and has received very positive reviews. In addition, La tristeza del samurái was awarded Le Prix du polar Européen 2012 by the French publisher Le Pointe, an award won previously by Philip Kerr and Arnaldur Indridason, among others.

In January, 2013 his novel publishes finalist Breathes for the Wound to the best foreign novel in the festival of Black cinema of Beaune, finalist in the Prize II Broke Negress of Salamanca, finalist to the best black novel 2014 that grants the festival VLNC. Translated into the Frenchman, the prestigious publishing house Rosenbloom (Scribe) has acquired the copyrights in English for Australia, New Zeland, UK and USA. Equally rights of translation have sold to Poland and Bulgaria.

In 2014 Ed. Destino pùblishes A million drops, a succesfull title that has been published in several languages.
---
Showing 1 to 2 of 2 (1 Pages)