Vesselina Antonova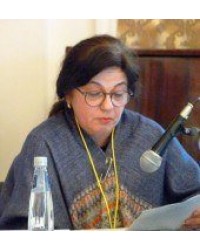 Vesselina Antonova was born in Rousse. Graduate of VTU "St. St. Cyril and Methodius ", Master in History.
She works as a research fellow at the Regional Museum of History - Rousse, currently chief expert in the State Archive - Rousse. Member of the Almanac editorial board for the history of Rousse, items I-XII. In 2004, she received a diploma from the Union of Scientists - Ruse, for contribution in the field of humanities.
Scientific interests in the field of the Bulgarian revival and popularization of the documentary wealth of SA-Rousse. Historical studies published: "The Revival Cemetery, the Church Svih Svetih" and the "Pantheon of the Revival in Rousse"; Rousse 2006 (co-author I. Zheynov); "Disassemble. A Balkan History from the 80s of the 20th Century", Rousse, 2008, (co-author D. Kamenova); "The Revival Community Center Zora in Rousse", Rousse, 2010 and others.
She creates the compilations of documentary collections: "Nikola Obretenov. Diaries and Memories 1877-1939 ", "Panayot Hitov. Surname remarks. Memories.(18th c. - 1877)", "Epoch of construction" and others.
Author of more than 20 scripts for documentaries created in RTVC Ruse broadcast on BNT: "Panayot Hitov between Legend and Truth" (2000); "She was born free", dedicated to Baba Tonka (2003); "The Excites and Sorrows of Nikola Obretenov" (2004) and others.
There are many of her award-winning films: "Six Women"; "The first window"; "Letters from Ruschuk" and others.
---
Showing 1 to 1 of 1 (1 Pages)