Václav Klaus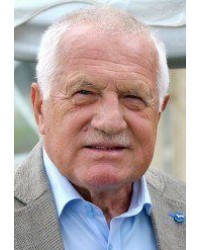 Václav Klaus (born 19 June 1941) is a Czech economist and politician who served as the second President of the Czech Republic from 2003 to 2013. He also served as the second and last Prime Minister of the Czech Republic, federal subject of the Czech and Slovak Federative Republic, from July 1992 until the dissolution of Czechoslovakia in January 1993, and as the first Prime Minister of the newly-independent Czech Republic from 1993 to 1998.
Klaus was the principal co-founder of the Civic Democratic Party (ODS), a Czech free-market Eurosceptic political party. His presidency was marked by numerous controversies over his strong views on a number of issues, from global warming denial to euroscepticism, and a wide-ranging amnesty declared in his last months of office, triggering his indictment by the Czech Senate on charges of high treason. His political views are often described as "Klausism".
Klaus was born in Prague during the Nazi occupation, and grew up in the large, then middle-class neighbourhood of Vinohrady. According to Klaus, he helped build barricades during the Prague uprising in May 1945, aged 4.
Klaus studied Economics of Foreign Trade at the University of Economics, Prague, graduating in 1963. He also spent some time at universities in Italy (1966) and at Cornell University in the United States in 1969. He then pursued a postgraduate academic career at the State Institute of Economics of the Czechoslovak Academy of Sciences, which, according to his autobiography, he was forced to leave in 1970.
Soon after that he was employed by the Czechoslovak State Bank, where he held various staff positions from 1971 to 1986, as well as working abroad in various Soviet-aligned countries, usually considered a privilege at the time. In 1987, Klaus joined the Institute for Prognostics of the Czechoslovak Academy of Sciences.
---
Showing 1 to 1 of 1 (1 Pages)