Walafrid Strabo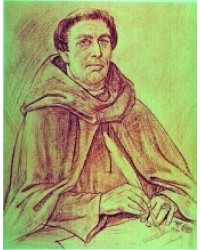 Walafrid, alternatively spelt Walahfrid, surnamed Strabo ("squint-eyed") (c. 808 – 849), was an Alemannic Benedictine monk and theological writer who lived on Reichenau Island.
Walafrid Strabo's works are theological, historical and poetical.
Walafrid's chief historical works are the rhymed Vita sancti Galli (The Life of Saint Gall), which, though written down nearly two centuries after this saint's death, is still the primary authority for his life, and a much shorter life of Saint Othmar, abbot of St. Gall (died 759).
Walafrid's poetical works also include a short life of Saint Blathmac, a high-born monk of Iona, murdered by the Danes in the first half of the 9th century; a life of Saint Mammes; and a Liber de visionibus Wettini. This last poem, written in hexameters like the two preceding ones, was composed at the command of "Father" Adalgisus and was based upon a prose narrative by Haito, abbot of Reichenau from 806 to 822. It is dedicated to Grimald, brother of Wettin, his teacher. As Walafrid tells his audience, he was only eighteen when he sent it, and he begs his correspondent to revise his verses, because, "as it is not lawful for a monk to hide anything from his abbot", he fears he may deserve to be beaten. In the vision, Wettin saw Charlemagne suffering torture in Purgatory because of his sexual incontinence. The name of the ruler alluded to is not directly stated in the text, but "Carolus Imperator" form the initial letters of the relevant passage. Many of Walafrid's other poems are, or include, short addresses to kings and queens (Lothar, Charles, Louis, Pippin, Judith, etc.) and to friends (Einhard; Grimald; Rabanus Maurus; Tatto; Ebbo, Archbishop of Reims; Drogo, bishop of Metz; etc.).
His most famous poem is the Liber de cultura hortorum which was later published as the Hortulus, dedicated to Grimald. It is an account of a little garden in Reichenau Island that he used to tend with his own hands, and is largely made up of descriptions of the various herbs he grows there and their medicinal and other uses, including beer brewing. Sage holds the place of honor; then comes rue, the antidote of poisons; and so on through melons, fennel, lilies, poppies, and many other plants, to wind up with the rose, "which in virtue and scent surpasses all other herbs, and may rightly be called the flower of flowers."
The poem De Imagine Tetrici takes the form of a dialogue; it was inspired by an equestrian statue depicting a nude emperor on horseback believed to be Theodoric the Great which stood in front of Charlemagne's palace at Aachen.
Codex Sangallensis 878 may be Walafrid's personal breviarium, begun when he was a student at Fulda.
---
Showing 1 to 1 of 1 (1 Pages)