Wallace Black Elk, William S. Lyon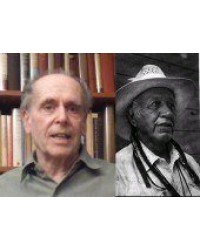 William S. Lyon received his Ph.D. in anthropology in 1970. He has spent the last four decades doing field research with many different American Indian medicine men, with an emphasis on the Lakota culture. In Spirit Talkers: North American Indian Medicine Powers, you will read of the great extent and variation in the medicine powers that were used by the American Indians to achieve success in their daily activities.
He first met Wallace Black Elk, a Lakota medicine man, in 1978 when they jointly conducted a summer session course at Southern Oregon University in Ashland, Oregon. This summer course won First Place nationally in the North American Association of Summer Sessions Creative Program Award contest.
Subsequently, Wallace Black Elk returned to Ashland each summer thereafter to conduct the same course in which students built and participated in a sweat lodge ceremony. By the 1980's Black Elk also initiated a Sun Dance near Pilot Rock in the mountains that included all races. Initially, A.I.M. threatened to shut down the ceremony, but that never took place. This annual Sun Dance in Ashland continues to this day.
In 1986 Lyon left academia to spend full time traveling in the U.S. and Europe with Wallace Black Elk, Archie Fire Lame Deer, and others. Over the next four years Lyon taped the many talks given by Black Elk that resulted in the 1991 publication of Black Elk: The Sacred Ways of the Lakota by Harper / San Francisco. This book is entirely in the words of Black Elk.
Wallace Black Elk (1921-2004), a traditional Lakota Elder and spiritual interpreter, was a Channupa (sacred pipe) bearing descendent of the legendary Nicholas Black Elk whose visionary experiences were recounted in the book "Black Elk Speaks." Grandfather Wallace was born and raised on the Rosebud Reservation in South Dakota and has been trained since childhood in the sacred ways of his people. He passed away on January 25, 2004 at his home in Denver, Colorado.

---
Showing 1 to 1 of 1 (1 Pages)