Teodor Lekov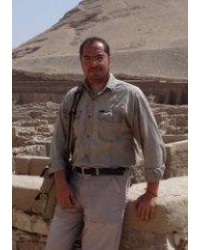 Assoc. Prof. Teodor Lekov is an Egyptologist. He was born in 1969 in Sofia.
Prof. Teodor Lekov is a person of encyclopedic knowledge, with profound understanding in all spheres of Egyptology.
He conducts globally significant researches in the field of Ancient Egyptian religion and the different aspects of the human personality, which he treats as separate concepts in the context of the multiple examples existing in sources from different historical periods. Through his monograph "The Hidden Knowledge", he opens the door of the Ancient Egyptian sacred books wisdom for the Bulgarian readers, setting up the foundations of a huge project – publishing the basic texts for the Netherworld with transliteration and translation.
Up to the present moment, the following books have already been published: "Litany of Re", "Amduat", "Book of the Gates", "Book of the Dead" and the author has enormous contribution for deriving a whole system of concepts and studying their interrelations.
Such a monumental project has never been accomplished by any scientist in the history of Egyptology.

Prof. Teodor Lekov is a special honorable member of the Bulgarian Egyptological Society.
---
Showing 1 to 2 of 2 (1 Pages)