Svetlana Stoycheva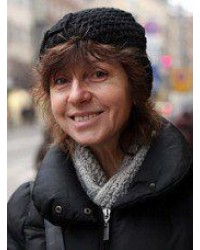 Prof. Dr. Svetlana Stoycheva was born on Dec. 3. 1959 in the town of Provadia, Varna district.
She graduated in Bulgarian Philology at Shumen University "Ep. Konstantin Preslavski "(1984) and holds a regular doctorate at the Department of Bulgarian Literature at the Sofia University "St. Kliment Ohridski" (1986-1990). In 1993 she defended a dissertation on "The Fairytale of Nikolay Raynov". In 1989 she was appointed a regular assistant at the Sofia University and from 1999 she was an associate professor at the same place. During the period 2000-2004 and 2009-2011 she worked as a lecturer on Bulgarian literature and culture at the Beijing University of Foreign Languages, China.
In 2011 she became a regular professor in the theory and history of literature at the National Academy of Theater and Film Arts "Krastyo Sarafov".
Her scientific interests are in the field of Bulgarian and European modernism, anthropology, the synthesis between different cultures and between different arts. She has published several monographs.
---
Showing 1 to 1 of 1 (1 Pages)