Saint John of Damascus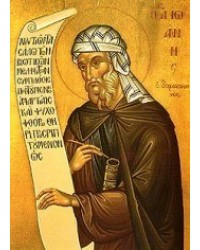 Saint John of Damascus, also known as John Damascene (c. 675 or 676–749) was a Syrian monk and priest. Born and raised in Damascus, he died at his monastery, Mar Saba, near Jerusalem.
A polymath whose fields of interest and contribution included law, theology, philosophy, and music, he is said by some sources to have served as a Chief Administrator to the Muslim caliph of Damascus before his ordination. He wrote works expounding the Christian faith, and composed hymns which are still used both liturgically in Eastern Christian practice throughout the world as well as in western Lutheranism at Easter. He is one of the Fathers of the Eastern Orthodox Church and is best known for his strong defense of icons. The Catholic Church regards him as a Doctor of the Church, often referred to as the Doctor of the Assumption due to his writings on the Assumption of Mary.
The most common source of information for the life of John of Damascus is a work attributed to one John of Jerusalem, identified therein as the Patriarch of Jerusalem. This is an excerpted translation into Greek of an earlier Arabic text. The Arabic original contains a prologue not found in most other translations, and was written by an Arab monk, Michael. Michael explained that he decided to write his biography in 1084 because none was available in his day. However, the main Arabic text seems to have been written by an earlier author sometime between the early 9th and late 10th centuries AD. Written from a hagiographical point of view and prone to exaggeration and some legendary details, it is not the best historical source for his life, but is widely reproduced and considered to contain elements of some value. The hagiographic novel Barlaam and Josaphat, traditionally attributed to John, is, in fact, a work of the 10th century
---
Showing 1 to 2 of 2 (1 Pages)