Steven Johnson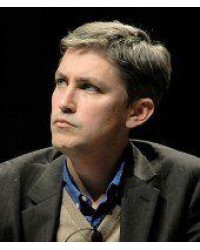 Steven Berlin Johnson (born June 6, 1968) is an American popular science author and media theorist.
Johnson grew up in Washington, D.C., where he attended St. Albans School. He completed his undergraduate degree at Brown University, where he studied semiotics, a part of the school's modern culture and media department. He also has a graduate degree from Columbia University in English literature.
Johnson is the author of nine books, largely on the intersection of science, technology, and personal experience. He has also co-created three influential web sites: the pioneering online magazine FEED, the Webby Award-winning community site, Plastic.com, and most recently the hyperlocal media site outside.in. A contributing editor to Wired, he writes regularly for The New York Times, The Wall Street Journal, The Financial Times, and many other periodicals. Johnson also serves on the advisory boards of a number of Internet-related companies, including Medium, Atavist, Meetup.com, Betaworks, and Patch.com.
He is the author of the best-selling book Everything Bad is Good for You: How Today's Popular Culture Is Actually Making Us Smarter (2005), which argues that over the last three decades popular culture artifacts such as television dramas and video games have become increasingly complex and have helped to foster higher-order thinking skills.
---
Showing 1 to 1 of 1 (1 Pages)