Stendhal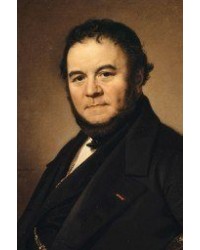 Marie-Henri Beyle (1783–1842), better known by his pen name Stendhal, was a 19th-century French writer. Best known for the novels Le Rouge et le Noir (The Red and the Black, 1830) and La Chartreuse de Parme (The Charterhouse of Parma, 1839), he is highly regarded for the acute analysis of his characters' psychology and considered one of the earliest and foremost practitioners of realism.
Born in Grenoble, Isère, he was an unhappy child, disliking his "unimaginative" father and mourning his mother, whom he passionately loved, and who died when he was seven. He spent "the happiest years of his life" at the Beyle country house in Claix near Grenoble. His closest friend was his younger sister, Pauline, with whom he maintained a steady correspondence throughout the first decade of the 19th century.
The military and theatrical worlds of the First French Empire were a revelation to Beyle. He was named an auditor with the Conseil d'État on 3 August 1810, and thereafter took part in the French administration and in the Napoleonic wars in Italy. He travelled extensively in Germany and was part of Napoleon's army in the 1812 invasion of Russia.
Stendhal witnessed the burning of Moscow from just outside the city. Stendhal was appointed Commissioner of War Supplies and sent to Smolenskto prepare provisions for the returning army. He crossed the Berezina River by finding a usable ford rather than the overwhelmed pontoon bridge, which probably saved his life and those of his companions. Stendhal arrived in Paris in 1813, largely unaware of the general fiasco that the retreat had become. Stendhal became known, during the Russian campaign, for keeping his wits about him, and maintaining his "sang-froid and clear-headedness." He also maintained his daily routine, shaving each day during the retreat from Moscow.
After the 1814 Treaty of Fontainebleau, he left for Italy, where he settled in Milan. He formed a particular attachment to Italy, where he spent much of the remainder of his career, serving as French consul at Trieste and Civitavecchia. His novel The Charterhouse of Parma, written in 52 days, is set in Italy, which he considered a more sincere and passionate country than Restoration France. An aside in that novel, referring to a character who contemplates suicide after being jilted, speaks about his attitude towards his home country: "To make this course of action clear to my French readers, I must explain that in Italy, a country very far away from us, people are still driven to despair by love."
Stendhal was a dandy and wit about town in Paris, as well as an inveterate womanizer who was obsessed with his sexual conquests. His genuine empathy towards women is evident in his books; Simone de Beauvoir spoke highly of him in The Second Sex. One of his early works is On Love, a rational analysis of romantic passion that was based on his unrequited love for Mathilde, Countess Dembowska, whom he met while living at Milan. This fusion of, and tension between, clear-headed analysis and the romantic feeling is typical of Stendhal's great novels; he could be considered a Romantic realist.
Stendhal suffered miserable physical disabilities in his final years as he continued to produce some of his most famous work. As he noted in his journal, he was taking iodide of potassium and quicksilver to treat his syphilis, resulting in swollen armpits, difficulty swallowing, pains in his shrunken testicles, sleeplessness, giddiness, roaring in the ears, racing pulse and "tremors so bad he could scarcely hold a fork or a pen". Modern medicine has shown that his health problems were more attributable to his treatment than to his syphilis.
Stendhal died on 23 March 1842, a few hours after collapsing with a seizure on the streets of Paris. He is interred in the Cimetière de Montmartre.
---
Showing 1 to 1 of 1 (1 Pages)