Stefan Mladenov, Stefan Popvashilev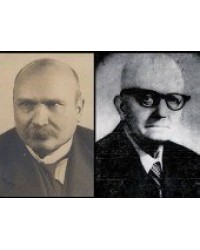 Academician Stefan Mladenov (1880–1963) is a Bulgarian linguist and dialectologist, a specialist in Indo-European linguistics, Slavistics, Balkan studies, Bulgarian studies and a scholar with world renown and authority.
Stefan Mladenov Stoyanov was born on December 27, 1880, in Vidin. He graduated from the classical department of the high school in Vidin. In high school, his talents to learn fast foreign languages are manifested. After graduating he became fluent in German, mastered French well and started studying English. At that time (1902) he translated into Bulgarian language two dramas by Henrik Ibsen. After a competition, he won a scholarship and started studying a Slavic philology at the Sofia University (1898-1902). He studied mainly Slavic languages without leaving his studies in other languages. His profound occupations solidly presuppose his later appearances as a scientist with extensive knowledge of all classical and new philologies.
Stefan Tenev Popvasilev (1888-1985) was a Bulgarian literary, public and cultural figure. He was born in Kazanlak on 26.IX.1888. He graduated from a classical high school in Sofia and Slavic philology at the Sofia University "St. Kliment Ohridski" (1919). He taught in Kazanlak, where he started publishing (since 1927) the "Rodna Rech" magazine, which he edited together with Prof. St. Mladenov. From 1936 to 1945 he worked at the Ministry of National Enlightenment as head of the People's Culture and Art Department, chairman of the Study committee and director of the Cultural artworks department. He died in 1985 in Kazanlak.

---
Showing 1 to 1 of 1 (1 Pages)