Siddhartha Mukherjee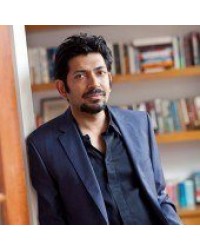 Siddhartha Mukherjee (born 21 July 1970) is an Indian-American physician, oncologist, and author, best known for his 2010 book, The Emperor of All Maladies: A Biography of Cancer. He studied biology at Stanford University, obtained a D.Phil. from the University of Oxford, and an M.D. from Harvard University.
Since 2009, Mukherjee is an Assistant Professor of Medicine at the Columbia University Medical Center in New York City. He has been the Plummer Visiting Professor at the Mayo Clinic in Rochester, Minnesota, the Joseph Garland lecturer at the Massachusetts Medical Society, and an honorary visiting professor at Johns Hopkins School of Medicine. A hematologist and oncologist by training, his research focuses on cancer therapy and gene functions related to blood cells.
The Emperor of All Maladies: A Biography of Cancer was a major breakthrough in his career. It received the 2011 Pulitzer Prize for General Non-Fiction. It was named one of the 100 most influential books written in English since 1923 by Time magazine, and one of the 100 notable books of 2010 by The New York Times Magazine. Based on the book, Ken Burns made a PBS Television documentary film Cancer: The Emperor of All Maladies in 2015 and was nominated for an Emmy Award. In 2016, Mukherjee released The Gene: An Intimate History which chronicles the history of the gene and a response to the defining question of the future: What becomes of being human when we learn to "read" and "write" our own genetic information?
The Government of India conferred him its fourth highest civilian award, the Padma Shri, in 2014.
---
Showing 1 to 2 of 2 (1 Pages)