Sibin Maynalovski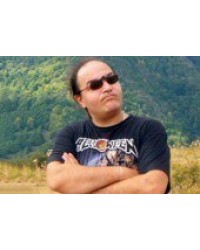 Sibin Maynalovski was born in Stara Zagora, but part of his heart will forever stay in Veliko Tarnovo. And in Rousse. And a little piece - in Sofia, where he currently lives with his beloved cat Juliet.
When he doesn't work as a graphic designer, he is involved in not very healthy activities - he drinks a lot of beer and higher-octane beverages, smokes two or three boxes of cigarettes a day, listens to power metal and flamenco, reads the thrillers of Chris Carter and Jeffrey Diver, filled with all sorts of perverse serial killers. And by the way he is the vice president of the The National Club of Horor Authors "LAZARUS"...
From time to time he even writes stories.
---
Showing 1 to 1 of 1 (1 Pages)