compilation: Varban Todorov, Nikolai Poppetrov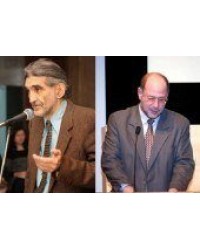 Varban Todorov is a historian, a graduate of the Athenian and Sofia universities. He has specialized in Greece, USA and France. Associate Professor at the Institute of Balkan Studies at the Bulgarian Academy of Sciences. The author of numerous scientific papers and studies, among which the documentary book "7th Establishment of the People's Court", co-authored with Nikolai Poppetrov. The expert, Deputy Chairman of Archives State Agency, participated in the processing and digitization of 14 301 documents from the People's Court.
Nikolai Poppetrov, a specialist at the Institute for Historical Research at the Bulgarian Academy of Sciences. Author of studies - monographs and articles - on the state-political system, political and social life in Bulgaria in the first half of the 20th century, some of which were published in Germany, France and Russia. He has special interests in the manifestations of fascism and Anti-Semitism.

---
Showing 1 to 1 of 1 (1 Pages)