compilation: Pavel Pavlovich, Simeon Evstatiev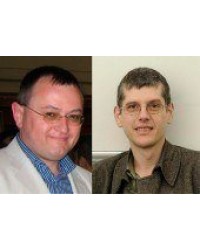 Pavel Pavlovich is a professor of Islamic Studies in the Center for Oriental Languages and Cultures at Sofia University "St. Kliment Ohridski," and head of the Chair of Arabic and Semitic Studies.
Pavel Pavlovich has a BA in History from Baghdad University (1992); an MA in Arabic Studies from Sofia University (1994), and a Ph.D. in History from Sofia University (1998). Doctor of philological sciences (2015). Associate professor since 2003. A full professor since 2017. Member of Union Européenne des Arabisants et Islamisants (UEAI) since 1998.
---
Simeon Evstatiev is an Arabic and Islamic Doctor of History, Professor of History of the Arab World and Islam at the Department of Arabic Studies and Semiology at the Sofia University "St. Kliment Ohridski" where he is Head of the Masters Program "Middle Eastern Studies" and the University Center for the Study of Religions. During the academic year 2013-2014 he was a visiting professor at Princeton University, USA, and in 2016-2017 he worked as an associate researcher at the Leibniz Center for Modern Oriental Studies (ZMO), Berlin.

Specializing in Madrid (2000) and Budapest (2005-2006), he was a research fellow at the American Research Institute in Istanbul (2012). He is a member of the European Union of Arabic and Islamic Scholars, the European Middle Eastern Studies Association, the German Oriental Society, and the German Association for Contemporary Studies of the Middle East. He has lectured and has participated in dozens of international forums in different countries across Europe and the Middle East, such as India and the United States. His scientific interests in the Middle East and Islamic studies include the relationship between religion and politics and their rationalization in Islamic theology and law, Salafism and typology of Islamic revival movements, religious identity, and the problem of boundaries of faith. He is the author of dozens of studies and scientific articles in Bulgarian, English, and German. A compiler, co-author and author of several books, including the monograph "Religion and Politics in the Arab World: Islam in Society", (Sofia, 2012).
---
Showing 1 to 1 of 1 (1 Pages)