Ram Dass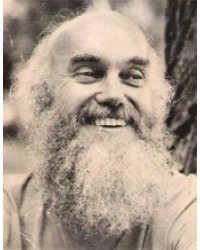 Ram Dass (born Richard Alpert; April 6, 1931) is an American spiritual teacher, former academic and clinical psychologist, and the author of the seminal 1971 book Be Here Now. He is known for his personal and professional associations with Timothy Leary at Harvard University in the early 1960s, for his travels to India and his relationship with the Hindu guru Neem Karoli Baba, and for founding the charitable organizations Seva Foundation and Hanuman Foundation. He continues to teach via his website.
Richard Alpert was born to a Jewish family in Newton, Massachusetts. His father, George Alpert, was a lawyer in Boston, president of the New York, New Haven and Hartford Railroad, one of the founders of Brandeis University and the Albert Einstein College of Medicine, as well as a major fundraiser for Jewish causes. While Alpert did have a bar mitzvah, he was "disappointed by its essential hollowness". He considered himself an atheist and did not profess any religion during his early life, describing himself as "inured to religion. I didn't have one whiff of God until I took psychedelics."
Alpert attended the Williston Northampton School, graduating in 1948 as a part of the Cum Laude Association. He then went on to receive a Bachelor of Arts degree from Tufts University, a master's degree from Wesleyan University, and a doctorate (all in psychology) from Stanford University. His father had wanted him to go to medical school, but while at Tufts he decided he wanted to study psychology instead. Alpert's mentor at Wesleyan, David McClelland, then recommended Alpert to Stanford, where he began his Ph.D. studies in the early 1950s. Alpert wrote his doctoral thesis on "achievement anxiety." After receiving his Ph.D., Alpert taught at Stanford for a year and began psychoanalysis.
Аt 60 years of age, Ram Dass began exploring Judaism seriously for the first time. "My belief is that I wasn't born into Judaism by accident, and so I needed to find ways to honor that", he says. "From a Hindu perspective, you are born as what you need to deal with, and if you just try and push it away, whatever it is, it's got you."
---
Showing 1 to 1 of 1 (1 Pages)