P. J. O'Rourke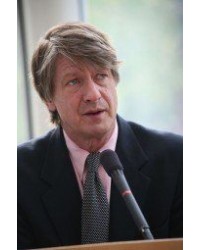 Patrick Jake O'Rourke (born November 14, 1947), known as P.J. O'Rourke, is an American political satirist and journalist. O'Rourke is the H. L. Mencken Research Fellow at the libertarian Cato Institute and is a regular correspondent for The Atlantic Monthly, The American Spectator, and The Weekly Standard, and frequent panelist on National Public Radio's game show Wait Wait... Don't Tell Me!. Since 2011 he has been a columnist at The Daily Beast.
In the UK, he is known as the face of a long-running series of television advertisements for British Airways in the 1990s. He is the author of 20 books, the best known of which are Holidays in Hell, a compilation of O'Rourke's articles as a free-lance foreign correspondent, All the Trouble in the World, an examination of current political concerns such as global warming and famine from a libertarian perspective.
His Parliament of Whores is a scathing yet humorous indictment of the U.S. Federal government best summed up by the quote "if government were a product, selling it would be illegal."
---
Showing 1 to 1 of 1 (1 Pages)