Peter Delchev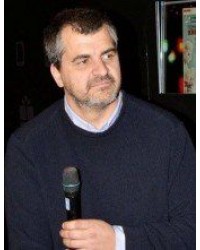 Peter Delchev is a Bulgarian poet and writer, born in 1971.
His first collection of poems was published in 2006 and was entitled "Mad to be Loved". The same year was marked by the publication of his first collection of short stories "Stories from Trun" which came out to be a phenomenon in the literary realm of Bulgaria. This book was nominated for the Elias Canetti Award for 2007. In 2016, the Plovdiv Drama Theatre staged a play, Wolves, based on his Stories from Trun, directed by Diana Dobreva. The play received three Askeer awards: for Dobreva's stage production, for Ivana Pappazova's supporting female role, and for Petya Dimanova's theatrical music.
His second book was "A Balkan Suite", a collection of novellas based on legends. It was first published in 2009. In 2013, Stories from Trun and A Balkan Suite were published in one volume, together with an additional short story.
In 2012, Peter Delchev published his first novel, A Casting for a Messiah.
Peter Delchev is the co-author of the dialogues and the dialects consultant for the film "Voevoda" (2017), directed by Zornitsa Sophia.
Since 2007, Delchev is a member of the Union of Bulgarian Writers.
---
Showing 1 to 3 of 3 (1 Pages)