Petar Velichkov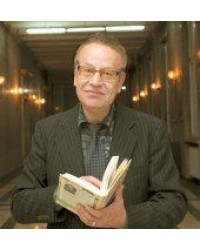 Petar Velichkov is a Bulgarian literary historian, textologist, journalist, researcher of the writer Yana Yazova, poet.
Born August 27, 1954, in the village of Popovitsa, Plovdiv district. Petar Velichkov graduated from St. Cyril and Methodius University of Veliko Tarnovo, specialty "Mass Communications and Journalism", before graduating as a mechanical engineer at the Technical University of Sofia.
He has worked since 1980 as a journalist in the newspapers ABC, Podkrepa, Express, Monitor and 24 chasa. Editor of "Librarian" magazine (since 1998) at National Library "St. St. Cyril and Methodius".
He is the author of several bestsellers - "Passions and Scandals in Kingdom Bulgaria" (2000, 2000, 2004), "Sofia's Secrets" (2004), "The Bulgarian: The Whole Truth" ( 2005), "The Easter and Spring Cards from the Third Bulgarian Kingdom" (2008), "Prototypes and Heroes" (2013), "Yana Yazova: The Curse of the Gift" ) and others.
In the period 1987-1989, he collected and prepared for printing the surviving draft novels of Yana Yazova Levski, Benkovski and Shipka, which make up the Balkans trilogy.
Edits over 200 books by Bulgarian classics and contemporary authors. He was the editor of the New Moon Library and the restored "Golden Beans" library by Hemus Publishing House. In 2007-2009, the original texts of the "Asenovtsi" quorum ("Solon's miracle worker", "Kaloyana's daughter", "John Asen II", "The Last Assenovet") were restored by Fani Popova-Mutafova. He composed with Rumyana Pashaliyska the 1943 anthology for children, which includes works by famous Bulgarian writers from 1943, left unpublished for 75 years.
He is the jury of the National Literary Competition for young authors "Yana Yazova", which is organized annually by the Conservatoire and the Municipality of Lom.
He is a member of the Union of Bulgarian Journalists.
---
Showing 1 to 6 of 6 (1 Pages)