Patrick Wayne Swayze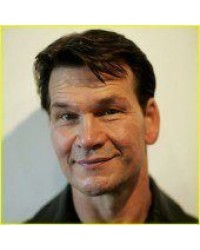 Patrick Wayne Swayze (August 18, 1952 – September 14, 2009) was an American actor, dancer, and singer-songwriter. Having gained fame with appearances in films during the 1980s, Swayze became popular for playing tough guys and romantic lead males, gaining him a wide fan base with female audiences, and status as a teen idol and sex symbol.
He starred in films from a range of genres, including the drama The Outsiders (1983), in the war film Red Dawn (1984), the Vietnam rescue film Uncommon Valor (1984), the classic hockey film Youngblood (1986), post-war apocalyptic action film Steel Dawn (1987), the romantic coming-of-age drama Dirty Dancing (1987), the action Road House (1989), the romantic fantasy/crime thriller Ghost(1990), the action crime film Point Break (1991), the comedy To Wong Foo, Thanks for Everything! Julie Newmar (1995), the action film Black Dog (1998), the supernatural drama Donnie Darko (2001), the drama Jump! (2003), the comedy drama 11:14 (2003), and two television series: 1985's North and South and in 2009, The Beast, his last acting role.
During his career he received three Golden Globe Award nominations and was named by People magazine as its "Sexiest Man Alive" in 1991. He was awarded posthumously the Rolex Dance Award in 2009.
Patrick Wayne Swayze was born on August 18, 1952, in Houston, Texas, the second child of Patsy Swayze (née Karnes; 1927–2013), a choreographer, dance instructor, and dancer, and Jesse Wayne Swayze (1925–1982), an engineering draftsman. He had two younger brothers, actor Don (born 1958) and Sean Kyle (born 1962), and two sisters, Vickie Lynn (1949–1994) and Bambi. Swayze and his siblings were raised in their mother's Roman Catholic faith.
Until the age of 20, Swayze lived in the Oak Forest neighborhood of Houston, where he attended St. Rose of Lima Catholic School, Oak Forest Elementary School, Black Middle School, and Waltrip High School. During this time, he pursued multiple artistic and athletic skills, such as ice skating, classical ballet, and acting in school plays. He played football for his high school and was hoping to receive a football scholarship for college until a knee injury ended his career. He also concurrently practiced martial arts such as Wushu, Taekwondo and Aikido, which he used to channel his "self-deprecating rage". In 1972, he moved to New York City to complete his formal dance training at the Harkness Ballet and Joffrey Ballet schools.
Swayze was married to Lisa Niemi for 34 years beginning on June 12, 1975. The couple met in 1970, when Swayze was 18 years old. Niemi, 14 years old at the time, was taking dance lessons from Swayze's mother. Swayze and Niemi had no children. In a 2008 interview, Swayze stated that Niemi was the inspiration for his hit song, "She's Like the Wind" (1987).
In 1989, Swayze said, "I've always felt there was something different in there (my personality), but I was scared to look. For I fear I wouldn't find anything. That's the reason I got into Buddhism, took EST training, was into therapy, into Scientology, into Transcendental Meditation. I was trying to support that side of myself. But, you know, in Texas there isn't much support for that part of you." He also had said how he is interested in and loves looking into different [religious] belief systems and faith, how it matters to other people, and how these various religious teachings are important to him in his world. He sought treatment for alcoholism by going into rehab in the 1990s. After an initial recovery, he temporarily withdrew from show business, retreating to his ranches in California, and Las Vegas, New Mexico to breed Arabian horses. His best-known horse was Tammen, a chestnut Arabian stallion.
In late December 2007, just after filming the pilot episode for The Beast, Swayze began to suffer a burning feeling in his stomach caused by a blockage of his bile ducts. Three weeks later, in mid-January 2008, he was diagnosed with stage IV pancreatic cancer. He traveled to the Stanford University Medical Center for chemotherapy and treatment with the experimental drug, vatalanib, which doctors hoped would cut off the blood supply to the tumor. On March 5, 2008, a Reuters article reported that Swayze "has a very limited amount of disease, and he appears to be responding well to treatment thus far." Swayze's doctor confirmed that the actor was diagnosed with pancreatic cancer but insisted he was not as close to death as reports suggested. Despite repeated tabloid claims that his death was imminent, Swayze continued to actively pursue his career.
In early May 2008, it was widely reported in a number of tabloids that Swayze underwent surgery to remove part of his stomach after the cancer spread and rewrote his will, transferring his property to his wife. In a statement made on May 28, Swayze said he continued to respond well to treatment at Stanford University Medical Center. In late May 2008, he was seen at a Los Angeles Lakers basketball game, his first public appearance since his diagnosis.
Swayze died, with family at his side, on September 14, 2009, at age 57, twenty months after being diagnosed. Swayze's publicist confirmed to CNN that he had died of pancreatic cancer.
---
Showing 1 to 1 of 1 (1 Pages)