Oleg Vadimovich Grigoriev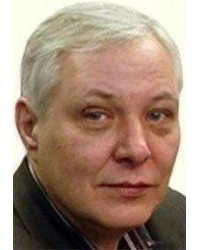 Oleg Vadimovich Grigoriev (born July 16, 1960) is the head and founder of the NeoEconomy Research Center.
Oleg Grigoriyev graduated from the Faculty of Economics at the Moscow State University, was a collaborator at the Central Economics and Mathematical Institute at the Academy of Sciences of the USSR. He has worked in the Supreme Council, in the State Duma, in the Economic Administration of the President of the Russian Federation. He is a first-class government advisor.
Since 2012 he is a founder and scientific manager of the Research Center "NeoEconomics".
1982-89, worked as a fellow of the Central Economics and Mathematics Institute (CEMI) at the Academy of Science of the Soviet Union.
1989-91, worked at the Central Interdepartmental Institute of Managerial and Professional Skill Development at the Moscow (formerly Kuybyshev) State University of Civil Engineering.
1991-92, served as a counselor at the Supreme Council of Russia.
1992-94, became a member of the Expert Institute of the RSPP.
1994-97, appointed as the State Duma, Deputy Chief of Staff of the Committee on Economic Policy.
1997-98, served as the Head of the Economic Department of the President of the Russian Federation.
1998-99, served as the Head of Tax Policy and the Acting Deputy and presided as the Chairman of the State Committee for Entrepreneurship Development in Russia.
2000-2001, appointed as the Director of the Research Center "Ecological Safety" Russian State Committee.
2003-2004, appointed as the Deputy Director of the Russian Institute of Radio Navigation and Time.
2004-2008, works as an independent specialist in systems of state and municipal government.
2008-2011, works as a senior expert economist adviser at a privately owned company, "Neocon".
---
Showing 1 to 1 of 1 (1 Pages)