O. Henry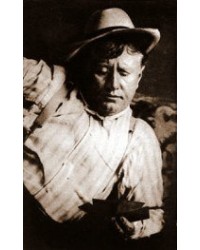 William Sydney Porter (1862–1910), known by his pen name O. Henry, was an American short story writer. His stories are known for their surprise endings.
William Sidney Porter was born on September 11, 1862, in Greensboro, North Carolina. He changed the spelling of his middle name to Sydney in 1898. His parents were Dr. Algernon Sidney Porter (1825–88), a physician, and Mary Jane Virginia Swaim Porter (1833–65). William's parents had married on April 20, 1858. When William was three, his mother died from tuberculosis, and he and his father moved into the home of his paternal grandmother.
Porter graduated from his aunt Evelina Maria Porter's elementary school in 1876. He then enrolled at the Lindsey Street High School. His aunt continued to tutor him until he was 15. In 1879, he started working in his uncle's drugstore in Greensboro, and on August 30, 1881, at the age of 19, Porter was licensed as a pharmacist. At the drugstore, he also showed his natural artistic talents by sketching the townsfolk.
Porter traveled with Dr. James K. Hall to Texas in March 1882, hoping that a change of air would help alleviate a persistent cough he had developed. He took up residence on the sheep ranch of Richard Hall, James' son, in La Salle County and helped out as a shepherd, ranch hand, cook, and babysitter.
Porter's health did improve. He traveled with Richard to Austin, Texas in 1884, where he decided to remain and was welcomed into the home of Richard's friends, Joseph Harrell and his wife. Porter resided with the Harrells for three years.
As a young bachelor, Porter led an active social life in Austin. He was known for his wit, story-telling and musical talents. He played both the guitar and mandolin. He sang in the choir at St. David's Episcopal Church and became a member of the "Hill City Quartette", a group of young men who sang at gatherings and serenaded young women of the town.
He then worked full-time on his humorous weekly called The Rolling Stone, which he started while working at the bank. The Rolling Stone featured satire on life, people and politics and included Porter's short stories and sketches. Although eventually reaching a top circulation of 1,500, The Rolling Stone failed in April 1895 because the paper never provided an adequate income. However, his writing and drawings had caught the attention of the editor at the Houston Post.
Porter and his family moved to Houston in 1895, where he started writing for the Post. His salary was only $25 a month, but it rose steadily as his popularity increased. Porter gathered ideas for his column by loitering in hotel lobbies and observing and talking to people there. This was a technique he used throughout his writing career.
While he was in Houston, federal auditors audited the First National Bank of Austin and found the embezzlement shortages that led to his firing. A federal indictment followed, and he was arrested on charges of embezzlement.
Porter's most prolific writing period started in 1902 when he moved to New York City to be near his publishers. While there, he wrote 381 short stories. He wrote a story a week for over a year for the New York World Sunday Magazine. His wit, characterization, and plot twists were adored by his readers but often panned by critics.
Porter married again in 1907 to childhood sweetheart Sarah (Sallie) Lindsey Coleman, whom he met again after revisiting his native state of North Carolina. Sarah Lindsey Coleman was herself a writer and wrote a romanticized and fictionalized version of their correspondence and courtship in her novella Wind of Destiny.
Porter was a heavy drinker, and by 1908, his markedly deteriorating health affected his writing. In 1909, Sarah left him, and he died on June 5, 1910, of cirrhosis of the liver, complications of diabetes, and an enlarged heart. After funeral services in New York City, he was buried in the Riverside Cemetery in Asheville, North Carolina. His daughter Margaret Worth Porter had a short writing career from 1913 to 1916. She married cartoonist Oscar Cesare of New York in 1916; they were divorced four years later. She died of tuberculosis in 1927 and is buried next to her father.
---
Showing 1 to 2 of 2 (1 Pages)