Nicholas Roerich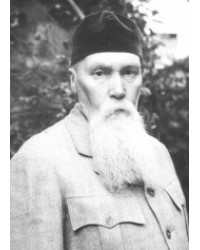 Nicholas Roerich (1874–1947) – known also as Nikolai Konstantinovich Rerikh was a Russian painter, writer, archaeologist, theosophist, perceived by some in Russia as an enlightener, philosopher, and public figure, who in his youth was influenced by a movement in Russian society around the spiritual. He was interested in hypnosis and other spiritual practices and his paintings are said to have hypnotic expression.
Born in Saint Petersburg, Russia, to a well-to-do notary public father of Baltic German ancestry and a Russian mother, he lived in various places around the world until his death in Naggar, Himachal Pradesh, India. Trained as an artist and a lawyer, his main interests were literature, philosophy, archaeology, and especially art. Roerich was a dedicated activist for the cause of preserving art and architecture during times of war. He earned several nominations for the Nobel Peace Prize long list. The so-called Roerich Pact was signed into law by the United States and most nations of the Pan-American Union in April 1935.
Presently, the Nicholas Roerich Museum in New York City is a major institution for Roerich's artistic work. Numerous Roerich societies continue to promote his theosophical teachings worldwide. His paintings can be seen in several museums including the Roerich Department of the State Museum of Oriental Arts in Moscow; the Roerich Museum at the International Centre of the Roerichs in Moscow; the Russian State Museum in Saint Petersburg, Russia; a collection in the Tretyakov Gallery in Moscow; a collection in the Art Museum in Novosibirsk, Russia; an important collection in the National Gallery for Foreign Art in Sofia, Bulgaria; a collection in the Art Museum in Nizhny Novgorod Russia; National Museum of Serbia; the Roerich Hall Estate in Naggar, India; the Sree Chitra Art Gallery, Thiruvananthapuram, India; in various art museums in India; and a selection featuring several of his larger works in The Latvian National Museum of Art.
Roerich's biography and his controversial expeditions to Tibet and Manchuria have been examined recently by a number of authors, including two Russians, Vladimir Rosov and Alexandre Andreyev, American (Andrei Znamenski), and the German Ernst von Waldenfels.
H.P. Lovecraft refers numerous times to the "strange and disturbing paintings of Nicholas Roerich" in his Antarctic horror story At the Mountains of Madness.
The minor planet 4426 Roerich in the Solar System was named in honor of Roerich.
In June 2013 during Russian Art Week in London, Roerich's Madonna Laboris sold at auction at Bonhams nbsp;shop for £7,881,250 inc. buyer's premium, making it the most valuable painting ever sold at a Russian art auction.
---
Showing 1 to 1 of 1 (1 Pages)