Nikola Shipkovensky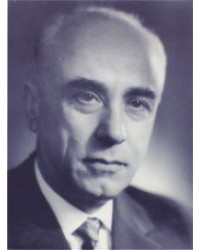 Prof. Nikola Shipkovensky is a Bulgarian psychiatrist, founder of psychopathology and in particular of modern judicial psychiatry in Bulgaria.
Nikola was born in the Balkan town of Troyan on December 19, 1906. After completing his primary education, between 1925 and 1933 he studied medicine at the Sofia University, then worked as a doctor in the village of Oreshak.
From 1934 to 1937 he was a doctor in his hometown of Troyan while enrolling (1936) to specialize in neurological and mental illnesses in Munich, Germany. In 1938 he published "Schizophrenia und Mord" in Berlin, where he describes for the first time, by way of example, the duality of suicidal impulses and those caused by foreign aggression. In 1939 he completed his specialization and returned to Bulgaria.
Between 1938 and 1939 Shipkovensky was a volunteer doctor, and from 1939 to 1942 he was a volunteer and regular assistant at the University Clinic of Neuropsychiatry in Sofia. In 1943 - 1945, Nikola Shipkovensky was initially volunteer and later a regular assistant at the Institute of Forensic Medicine at the SMA and in the Neuro-psychiatric clinic of the Sofia University (1945-1947). In 1947, Shipkovensky became a regular associate professor at the University's neuro-psychiatric clinic of Sofia University and professor in 1954.
Since 1960, he has been a member of the International Council on Group Psychotherapy. He published in Vienna "Disease Responses of the Personality - Neurosis and Psychogenic Psychoses" (1961) and "Weakness and Crime" in Jena (1962). Particularly interesting is his publication "Psychopathology of the Hand", which is still unique in the world psychiatric literature.
In 1963, Professor Shipkovensky became a member of the French Society for Psychosomatic Medicine and the World Federation of Neurology, and published in German "Iatrogenic or releasing psychological therapy".
Shipkovensky has a huge number of scientific publications in German, French, Italian, Polish and Russian.
---
Showing 1 to 1 of 1 (1 Pages)