Nikola Mikhov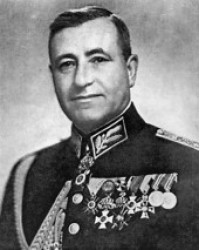 Nikola Mikhailov Mikhov (1890–1945) was a Bulgarian lieutenant general of artillery who served as the Regent of Bulgaria for the underage Simeon II (1943–44).
Nikola Mikhov was born on 11 December 1891, in Veliko Tarnovo, Kingdom of Bulgaria. Graduated from the Sofia Military School in 1911. Commanded an artillery battery during the Balkan Wars, took part in the siege of Odrin. From April 1915 he was an assistant of the artillery inspector at the Military School. During World War I, Mikhov commanded a battery in the 15th Artillery Regiment and took part in the capture of the Tutrakan fortress, defended by Romanian troops. In 1917, commanded the 1st horsed artillery unit.
In 1922–29, Mikhov was an artillery instructor at the Military School, an officer of the 4th Artillery Regiment, an adjutant in the artillery department of the War Ministry, and commander of a unit in the Sofia defense area. In 1929–32, he was the chief of a section of the Artillery Inspectorate. In 1932–33, he was the chief of the Engineering Inspectorate. Mikhov commanded that the 7th Artillery Division in 1933–35. Since 1935 he was the head of the training department of the Artillery Inspectorate. Also around that time, Mikhov was the editor of the publication Artillery Review. In 1936, Mikhov became the assistant of the commander of the 3rd Division. Later that year he became its commander. He served as the head of the military school from 17 February 1937 until 19 April 1941.
---
There are no products to list.