Napoleon Hill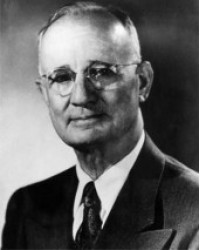 Napoleon Hill (1883-1970) was an American author in the area of the new thought movement who was one of the earliest producers of the modern genre of personal-success literature. He is widely considered to be one of the great writers on success. His most famous work, Think and Grow Rich (1937), is one of the best-selling books of all time (at the time of Hill's death in 1970, Think and Grow Rich had sold 20 million copies). Hill's works examined the power of personal beliefs, and the role they play in personal success. He became an advisor to President Franklin D. Roosevelt from 1933 to 1936. "What the mind of man can conceive and believe, it can achieve" is one of Hill's hallmark expressions. How achievement actually occurs, and a formula for it that puts success in reach of the average person, were the focal points of Hill's books.
Hill was born in a one-room cabin near the Appalachian town of Pound in Southwest Virginia.Hill's mother died when he was nine years old, and his father remarried two years later to Martha. His stepmother had a big influence on him: "Hill's stepmother, the widow of a school principal, civilized the wild-child Napoleon, making him go to school and attend church." At the age of 13, Hill began writing as a "mountain reporter", initially for his father's paper. At the age of 15, he married a local girl who had accused him of fathering her child; the girl recanted the claim, and the marriage was annulled.
Hill moved to Mobile, Alabama in 1907 and co-founded the Acree-Hill Lumber Company. In October 1908, the Pensacola Journal reported that the firm faced bankruptcy proceedings and charges of mail fraud.
In May 1909, Hill moved to Washington D.C. and founded the "Automobile College of Washington," where he instructed students to build, chauffeur and sell motor cars. The college assembled cars for the Carter Motor Corporation, which declared bankruptcy in early 1912. In April 1912, the automobile magazine Motor World accused Hill's college of being a scam relying upon on misleading marketing materials that would be "a joke to anyone of average intelligence."Hill's automobile college went out of business later that year.
While running his automobile college, in June 1910, Hill married his first wife, Florence Elizabeth Horner. The couple had their first child together, James, in 1911, a second child named Napoleon Blair in 1912, and a third son, David, in 1918. After his automobile college folded, Hill moved to Lumberport, West Virginia with his wife's family. He later moved to Chicago and took a job with the LaSalle Extension University before co-founding a candy business that he named the Betsy Ross Candy Shop.
In September 1915, Hill established and served as the dean of a new school in Chicago, the "George Washington Institute of Advertising," where he intended to teach the principles of success and self-confidence. On June 4, 1918, the Chicago Tribune reported that the state of Illinois had issued two warrants for the arrest of Hill, who was charged with violating blue sky laws for fraudulently attempting to sell shares of his school with a $100,000 capitalization, despite the school's assets only being appraised at $1200.
Later in his life, Hill would say that he spent the years of 1917-1918 advising president Woodrow Wilson amidst World War I.
Following the closure of the George Washington Institute, Hill embarked on various other business ventures. He founded several personal magazines, including Hill's Golden Rule and Napoleon Hill's Magazine. In 1922, Hill also founded the Intra-Wall Correspondence School, a charitable foundation intended to provide educational materials to prisoners in Ohio. The foundation was headed by, among others, the check forger and former convict Butler Storke, who was later himself to be sent back to prison in 1923. According to Hill's official biography, this period was also when hundreds of documents connecting Hill to additional, various famous figures were destroyed in a Chicago storage fire.
---
Showing 1 to 3 of 3 (1 Pages)