Milkana Boshnakova, Vladislav Kovachov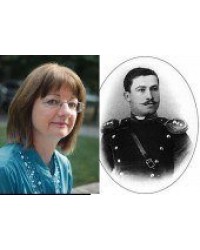 Milkana Ivanova Boshnakova is a Bulgarian historian and archivist, historian of the liberation movement of the Bulgarians in Macedonia and Edirne from the late 19th century until the First World War.
Milkana Boshnakova was born in 1956 in Chirpan.
Long-time Head of the Bulgarian Historical Archives Department at the National Library "St. St. Cyril and Methodius". She is the author of a number of books and articles, among which the most famous is the book "Personal notebooks of P.K. Yavorov", published in 2008 on the occasion of the 130th anniversary of the poet's birth.
---
Vladislav (Slavcho) Mihailov Kovachov (Kovachev) (1875–1924) is a voivode from Shtip, Macedonia and publicist, editor of the Autonomous Macedonia newspaper. He originates from the prominent genus from the town of Shtip Kovachovi. His father was the teacher and revolutionary Mikhail Kovachev, head of the Shtip District Revolutionary Committee and a participant in the Ilinden-Preobrazhenie uprising. His uncle is the professor of Sofia Higher School Yosif Kovachev, a well-known benefactor and donor.
Vladislav Kovatchev was born on 5 January 1875 in Shtip. He studied in his hometown and in Sofia. He graduated from the Classical High School (1892) and the Sofia Military School in 1895, rank second lieutenant.
He was among the founders of the Bulgarian Liberation Brotherhood in Veliko Tarnovo, where he was sent to serve in the 18th Infantry Regiment of Etara.
---
Showing 1 to 1 of 1 (1 Pages)