Michael Chekhov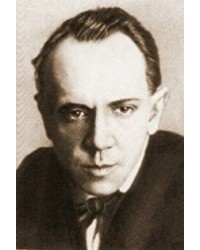 Mikhail Aleksandrovich "Michael" Chekhov (29 August 1891 – 30 September 1955) was a Russian actor, director, author, and theatre practitioner. His acting technique has been used by actors such as Jack Nicholson, Clint Eastwood, Marilyn Monroe, and Yul Brynner. Konstantin Stanislavski referred to him as his most brilliant student. He was a nephew of the playwright Anton Chekhov.
Although mainly a stage actor, he made a few notable appearances on film, perhaps most memorably as the Freudian analyst in Alfred Hitchcock's Spellbound (1945), for which he received his only Academy Award nomination.
He was born in Saint Petersburg the son of Alexander Chekhov (the elder brother of Anton Chekhov) and his wife Natalya Golden. It was his father's second marriage, his mother, a Russian Jew, having been the governess to his children from his first marriage. He was raised in a middle-class family his father being in the Imperial Customs Service as well as a moderately successful writer. Chekhov's first wife (1914–1917) was actress Olga Chekhova born Knipper, whom he met at the MAT First Studio. (She was named after her aunt, the wife of Anton Chekhov.) Their daughter, also baptized Olga, was born in 1916, she became a German actress under the name Ada Tschechowa. Olga Chekhova was a daughter of Konstantin Knipper and the niece and namesake of Olga Knipper, Anton Chekhov's wife. His second wife was Xenia Ziller, of German origins.
Chekhov was considered by the Russian theatre practitioner Konstantin Stanislavski to be one of his brightest students. He studied under Stanislavski at the First Studio of the Moscow Art Theatre, where he acted, directed, and studied Stanislavski's 'system'. When Chekhov experimented with affective memory and had a nervous breakdown, this aided Stanislavski in seeing the limitations of his early concepts of emotional memory. He later led the company whose studio he named Second Moscow Art Theatre.
After the October Revolution, Chekhov split with Stanislavski and toured with his own company. He thought that Stanislavski's techniques led too readily to a naturalistic style of performance. He demonstrated his own theories in parts as Senator Ableukhov in the stage version of Andrei Bely's Petersburg. In the late 1920s, Chekhov emigrated to Germanyand set up his own studio, teaching a physical and imagination-based system of actor training. He developed the use of the "Psychological Gesture", a concept derived from the Symbolist theories of Bely. Stanislavski came to regard Chekhov's work as a betrayal of his principles.
In this technique, the actor physicalizes a character's need or internal dynamic in the form of an external gesture. Subsequently, the outward gesture is suppressed and incorporated internally, allowing the physical memory to inform the performance on an unconscious level. Between 1930-1935 he worked in Kaunas State Drama Theatre in Lithuania. Between 1936 and 1939 Chekhov established The Chekhov Theatre School at Dartington Hall, in Devon, England. Following developments in Germany that threatened the outbreak of war he moved to the USA with the couple, and later writers, Anne Cumming and Henry Lyon Young to recreate a drama school.
---
Showing 1 to 2 of 2 (1 Pages)