Martin Ivanov, Georgi Ganev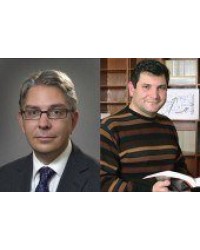 Martin Ivanov is a Ph.D. in History and a senior research associate at the Institute of History at the Bulgarian Academy of Sciences. He has specialized at the University of Cambridge, the University of Edinburgh and the National University of Ireland. He taught business history at the NBU and the departments of European Studies, Sociology and the Faculty of History at Sofia University. Author of more than 70 scientific publications and three monographic studies on the economic policy of Bulgaria from the 70s of the 19th century to the present day.
---
Georgi Ganev is a Program Director for Economic Affairs at the Center for Liberal Strategies in Sofia, member of the Management Board of the Bulgarian Macroeconomic Association and Assistant Professor at the Faculty of Economics of the Sofia University. He teaches courses in macroeconomics, money and banking and a new institutional economy. His interests are in the areas of macroeconomics and monetary theory and politics, political economy, transition, economic growth and development, the new institutional economy, social capital.

---
Showing 1 to 1 of 1 (1 Pages)