Kristina Lugn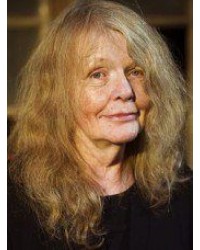 Gunhild Bricken Kristina Lugn (born 14 November 1948) is a Swedish poet and dramatist and member of the Swedish Academy.
Lugn was born in Tierp, Uppland and was raised in Skövde, Västergötland, and after finishing her academic education she has devoted her time to poetry, as literary critic and a playwright. Since 1972 she has published seven books of poetry. Her plays have been staged at Dramaten (the Swedish Royal Dramatic Theatre), Stockholm City Theatre, and at Teater Brunnsgatan Fyra. Much appreciated by the Swedish audience, she touches subjects of loneliness, death and middle-age crises with irony, cynicism and black humour.
From 1997 to 2011, she ran the small independent theatre Teater Brunnsgatan Fyra in Stockholm (at the address of Brunnsgatan 4), established by the popular Swedish actor Allan Edwall. After 2011 it was run by her daughter, the author Martina Montelius.
On 20 December 2006, Lugn was elected into the Swedish Academy to replace Lars Gyllensten in chair 14.
She has won awards including the Doblouska prize in 1999, the Selma Lagerlöf Foundation literature prize in 1999, the Bellman prize in 2002, the Gustaf Fröding society's lyrics prize in 2007, and the Övralids prize in 2009.
---
Showing 1 to 1 of 1 (1 Pages)