Сhris Anderson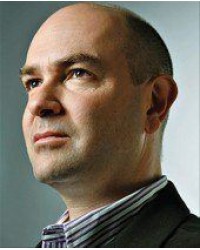 Chris Anderson (born July 9, 1961) is a British-American author and entrepreneur. He was with The Economist for seven years before joining WIRED magazine in 2001, where he was the editor-in-chief until 2012. He is known for his 2004 article entitled The Long Tail; which he later expanded into the 2006 book, The Long Tail: Why the Future of Business Is Selling Less of More. He is the cofounder and current CEO of 3D Robotics, a drone manufacturing company.
Anderson was born in London. His family moved to the United States, when he was five. He enrolled for a degree program in physicsfrom George Washington University and went on to study quantum mechanics and science journalism at the University of California, Berkeley. He later did research at Los Alamos National Laboratory.
He began his career with a six-year period as editor at the two scientific journals, Nature and Science. He then joined The Economist in 1994, where he remained for seven years, during which time he was stationed in London, Hong Kong and New York City in various positions, ranging from Technology Editor to US Business Editor. He took over as editor of WIRED in 2001.
---
Showing 1 to 2 of 2 (1 Pages)