Krassimir Terziev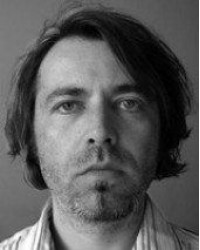 Krassimir Terziev (born in 1969, in Dobritch, Bulgaria) is a visual artist, living and working in Sofia. He works with a broad range of media including video, photography, installation and drawing.
He reseived a Ph.D. in Cultural Anthropology at Sofia University (2012), and is teaching in the Digital Arts MA Programme at the National Academy of Arts Sofia (Bulgarian: Национална художествена академия; abbreviated НХА, NAA), where he received an MA in Painting (1997).
His solo exhibitions include: Background Action, Würtembergischer Kunstverein Stuttgart, 2008, Sofia City Gallery, 2007; Making Movies, Galleria Noua, Bucharest, 2007; Remote Resemblances, Goethe-Institut Sofia, 2005; Excuse Me, Which City Is This?, Institute of Contemporary Art - Sofia, 2004; On The BG Track, Belgrade Cultural Centre, 2003; Everything Seems Alright, The Kitchen, New York, 1999. His work has been exhibited in group exhibitions, including: Actors&Extras, Argos Centre for Art and Media, Brussels, 2009, The Projection Project, MuHKA, Antwerp, 2007, Műcsarnok Kunsthalle Budapest, 2007; Cinema like never before, Generali Foundation, Vienna, 2006, Akademie der Künste, Berlin, 2007; New Video, New Europe, TATE Modern London, 2004, Stedelijk Museum, Amsterdam, 2005, Renaissance Society, Chicago, 2004, The Kitchen, NY, 2005.
---
Showing 1 to 1 of 1 (1 Pages)