Kelly Cutrone, Meredith Bryan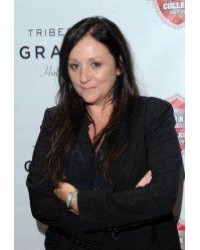 Kelly Cutrone (born November 13, 1965) is an American fashion publicist, television personality, and New York Times Best selling author. Born and raised in Camillus, New York In 1996, Cutrone rose to prominence after founding Fashion & LifeStyle PR/Brand Strategy firm People's Revolution. In 2008, Cutrone joined the cast of MTV's The Hills when she employed its main cast members Lauren Conrad and Whitney Port. After Port relocated to New York City, Cutrone was featured in a The Hills spin-off, The City.
In 2010, Cutrone executive produced Bravo's Kell on Earth. That year, she released her New York Times Best Selling memoir, If You Have to Cry, Go Outside: And Other Things Your Mother Never Told You, with Harper One/ Harper Collins and published a second book Normal Gets You Nowhere in 2012.
Cutrone was born and raised in Camillus, New York. She graduated from Syracuse University with a degree in Nursing.
She moved to New York at age 21 and began her career in public relations after being introduced to Susan Blond, a prominent New York publicist, by her writer/socialite acquaintance Anthony Haden-Guest, who had suggested that she become a publicist. Cutrone became Blond's assistant for a year and went on to become director of PR at Spin magazine for Bob Guccione. Less than a year later, Cutrone launched Cutrone & Weinberg with former Susan Blond intern, Jason Weinberg. The duo represented Eartha Kitt, CC Music Factory, Nile Rogers, Frank Sinatra, Cafe Tabac, Hollywood Palladium, The Roxy, The Limelight, Dee Lite, The William Morris Agency and many more. Cutrone has been married twice. At 21, she married Andy Warhol's protégé, artist Ronnie Cutrone, and at 28 married actor Jeff Kober. Both marriages ended in a divorce. She has a daughter with Italian Ilario Calvo, named Ava Cutrone in 2002).
---
Meredith Bryan is now senior deputy editor, news for Cosmopolitan. She has most recently served as a contributing editor and articles editor for O, The Oprah Magazine. Additionally, from June 2007 to March 2010 she was a style reporter for The New York Observer.

---
Showing 1 to 1 of 1 (1 Pages)