Katya Zografova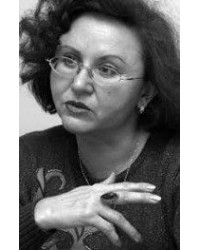 Katya Zografova is a Bulgarian literary historian, literary critic and writer.
She was born in 1957 in Panagyurishte. She graduated Bulgarian Philology at the Plovdiv University "Paisii Hilendarski". In 1989 she won a competition and began work at the National Literary Museum in Sofia. For many years she has been the director of the House Museum "Nikola Vaptsarov" (2002 - 2009, 2016 -), and from 2010 to 2016 she is director of the National Literary Museum.
She has published over 600 publications in the print media.
She is a consultant for documentary films about Elisaveta Bagryana, Ivan Nenov, Nikola Vaptsarov, "Tsar Osvoboditel" coffee shop. The main focus of her research is the period of the 20s-40s of the twentieth century.
She is the author of a number of publications, including "The Women in the April Uprising", "Nikola Vaptsarov: Rediscovery", "Playing with the Elements - Elisaveta Bagryana", "The Non-canonical Vazov", " Famous, forgotten, forbidden "and others.
---
Showing 1 to 7 of 7 (1 Pages)