Katty Kay & Claire Shipman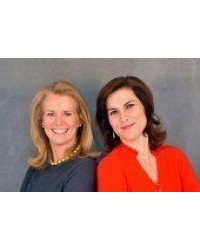 Claire Shipman is a regular contributor to "Good Morning America" and other national broadcasts for ABC News. She joined the morning broadcast in May of 2001 and is based in the network's Washington, D.C., bureau. Shipman regularly interviews influential newsmakers for the network. Over the years she has conducted in-depth interviews with Presidents George Bush and Bill Clinton, U.S. Secretary of State Hillary Clinton, Vice Presidents Dick Cheney and Al Gore, Queen Rania of Jordan, Gov. Arnold Schwarzenegger and numerous others. She spent 5 years reporting from Moscow for CNN, and will never forget the sight of Boris Yeltsin on a tank, and citizens tearing down statues of Vladimir Lenin.
Shipman began her broadcasting career as a production assistant and intern at CNN's bureau in New York City. She holds a graduate degree in international affairs from Columbia University and a Bachelors of Arts in Russian studies from Columbia University, where she graduated magna cum laude. She is currently a Columbia University Trustee. A native of Columbus, Ohio, Shipman resides in Washington, D.C., with husband Jay Carney and their two children, Hugo and Della.
---
Katty Kay is the anchor of "BBC World News America," based in Washington, D.C. She is also a frequent contributor to "Meet the Press" and "Morning Joe," and a regular guest host for "The Diane Rehm Show" on NPR. In addition to her work on women's issues, Kay has covered the Clinton administration sex scandal, three Presidential elections and the wars in Kosovo, Afghanistan and Iraq. She was at the Pentagon just 20 minutes after a hijacked plane flew into the building on 9/11 – one of her most vivid journalistic memories is of interviewing soldiers still visibly shaking from the attack.
Kay grew up all over the Middle East, where her father was posted as a British diplomat. She studied modern languages at Oxford and is a fluent French and Italian speaker with some "rusty Japanese." Kay juggles her journalism with raising four children with her husband, a consultant.
---
Showing 1 to 1 of 1 (1 Pages)