Ivan Ivanov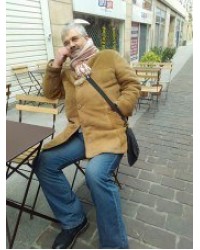 Ivan Ivanov was born on 19 January 1964 in Lovech. He graduated from the School of Mechanical and Electrical Engineering in his hometown and then from the Higher Military Artillery School in Shumen. The ranks in the army, the limitations imposed on him by the environment, the freedom of thought, are among the reasons behind his leaving after ten years of officers' service.
For more than ten years, his life has been connected with electronic media - from the very beginning of all the problems and joys of the oncoming private radio business, connected with the construction of the first out-of-Sofia radio navigation "Liany".
His creative debut is in his adulthood - around the '50s, which prevents him from unnecessary conceit. He has published four books. Author of plays, stories, novels.
---
Showing 1 to 2 of 2 (1 Pages)