Igor Stiks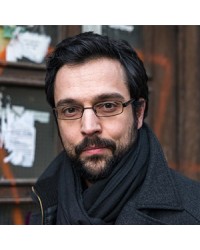 Igor Štiks was born in Sarajevo, Bosnia-Herzegovina, in 1977. During the Yugoslav wars he fled to Croatia and currently lives in Belgrade, Serbia. He has also lived in Paris, Chicago, Edinburgh, and Graz.
He earned his PhD at the Institut d'Études Politiques de Paris and Northwestern University and later worked and taught at the University of Edinburgh and the Faculty of Media and Communications in Belgrade.

His first novel, A Castle in Romagna (Dvorac u Romagni), won the Slavić prize for best first novel in Croatia and was nominated for the IMPAC International Dublin Literary Award for 2006. His second novel The Judgment of Richard Richter, originally published as Elijah's Chair (Elijahova stolica), won the Gjalski and Kiklop Awards for the best novel in Croatia in 2006 and has been translated into fifteen languages including German, Spanish, French, Dutch, Italian, Polish, Czech, Hungarian, Slovenian, Bulgarian, Macedonian, Finnish, Ukrainian and Arabic. In 2017 he published his third novel originally titled Rezalište.

In his scholarly work, Štiks investigated the topic of citizenship and nationalism in Balkans. Besides many scholarly articles and edited volumes, Štiks published a monograph, Nations and Citizens in Yugoslavia and the Post-Yugoslav States: One Hundred Years of Citizenship (2015). Along with Jo Shaw, he edited the collections Citizenship after Yugoslavia (2013) and Citizenship Rights (2013), and, with Srećko Horvat, Welcome to the Desert of Post-Socialism (2015). Štiks was honored with the prestigious French distinction Chevalier des arts et des lettres for his literary and intellectual achievements.

In addition to winning the Grand Prix of the 2011 Belgrade International Theater Festival for his stage adaptation of Elijah's Chair, Štiks wrote two more plays, Flour in the Veins and Zrenjanin. All three plays were put on stage by one of the leading post-Yugoslav theater directors Boris Liješević.

In 2017, Štiks signed the Declaration on the Common Language of the Croats, Serbs, Bosniaks and Montenegrins.

---
Showing 1 to 1 of 1 (1 Pages)