Hans Rosling, Ola Rosling and Anna Rosling Rönnlund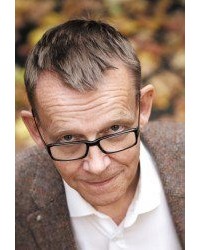 Hans Rosling (27 July 1948 – 7 February 2017) was a Swedish physician, academic, statistician, and public speaker. He was the Professor of International Health at Karolinska Institute and was the co-founder and chairman of the Gapminder Foundation, which developed the Trendalyzer software system. He held presentations around the world, including several TED Talks in which he promoted the use of data to explore development issues.
Rosling was born in Uppsala, Sweden, on the 27th of July 1948. From 1967 to 1974 Rosling studied statistics and medicine at Uppsala University, and in 1972 he studied public health at St. John's Medical College,Bangalore, India. He became a licensed physician in 1976 and from 1979 to 1981 he served as District Medical Officer in Nacala in northern Mozambique. On 21 August 1981, Rosling began investigating an outbreak of konzo, a paralytic disease first described in the Democratic Republic of the Congo. His investigations earned him a Ph.D. at Uppsala University in 1986.
Rosling presented the television documentary The Joy of Stats, which was broadcast in the United Kingdom by BBC Four in December 2010 and has been made available to 'catch up' on BBC iPlayer since. He presented a documentary Don't Panic — The Truth about Population for the This World series using a Musion 3D projection display, which appeared on BBC Two in the UK in November 2013. In 2015, he presented the documentary Don't Panic: How to End Poverty in 15 Years, which was produced by Wingspan and aired on the BBC just ahead of the announcement of the UN's Sustainable Development Goals.
Rosling was a sword swallower, as demonstrated in the final moments of his second talk at the TED conference. In 2009 he was listed as one of 100 leading global thinkers by Foreign Policy, and in 2011 as one of 100 most creative people in business by Fast Company. In 2011 he was elected member of the Swedish Academy of Engineering Sciences and in 2012 as member of the Swedish Academy of Sciences. He was included in the Time 100 list of the world's 100 most influential people in 2012.
Rosling's son, Ola Rosling, built the Trendalyzer software to animate data compiled by the UN and the World Bank that helped him explain the world with graphics. Rosling co-founded the Gapminder Foundation together with his son Ola and daughter-in-law Anna Rosling Rönnlund to develop Trendalyzer to convert international statistics into moving, interactive graphics. The provocative presentations that have resulted have made him famous. and his lectures using Gapminder graphics to visualize world development have won awards The interactive animations are freely available from the Foundation's website.
In March 2007 Google acquired the Trendalyzer software with the intention to scale it up and make it freely available for public statistics. In 2008 Google made available a Motion Chart Google Gadget and in 2009 the Public Data Explorer.
---
Showing 1 to 1 of 1 (1 Pages)