Grigor Ugarov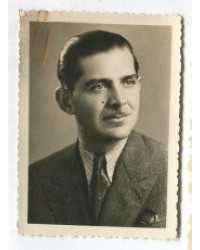 Grigor Ugarov, a pseudonym of Grigor Angelov Koshev (1911-1983), is a Bulgarian writer. He is known as an author of children's and adolescent's books in the adventure and science fiction genre.
Grigor Ugarov was born on 5 August 1911 in the village of Chelopechene, Sofia district. He graduated from lower secondary school in Chelopechene and Haslev-Hoyshkule Agricultural Institute in Haslev, Denmark (1928-1932). He was a librarian at the Sofia District Court, the Court of Justice and the Council of the Bar Association (since 1935). He was also head of Culture Department at the Vasil Levski District People's Council in Sofia. He collaborates with the newspapers "Zarya", "Horovod", "Literaturen Zhivot", "Svetlostruy", "Slaveiche" and the magazines "Rositsa" (1935) "Zemya i Trud", "Chas", "Gorchiv smyah" and others.
He died on 30 September 1983.
---
Showing 1 to 1 of 1 (1 Pages)