Guillaume Musso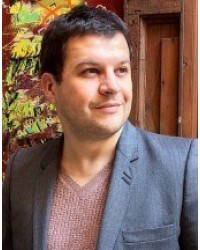 Musso was born in 1974 in Antibes (Alpes-Maritimes), France. After finishing high school, he left for the United States at the age of 19. He spent several months in New York City, living with other young foreigners and earning money by selling ice-cream. Then he came back to France, earned a degree in economics, and taught in high schools. His first published novel, Skidamarink, a thriller that opens with the theft of the Mona Lisa from the Musée du Louvre, was published in 2001.
After a car accident he became interested in near-death experiences and imagined a story about a man who returns to life after touching death. This became the novel Afterwards... published in 2004 by XO Editions, which sold more than 1 million copies in France and has been translated into 23 languages. Afterwards, the film directed by Gilles Bourdos starring John Malkovich and Evangeline Lilly was released in France in January 2009 and then internationally.
Musso wrote Save Me in 2005, A Mix-up in Heaven in 2006, Lost and Found in 2007, One Day, Perhaps in 2008, Where Would I Be Without You? in 2009,Girl on Paper in 2010 and Call from an Angel in 2011. In 2009, Musso was the #2 bestselling author in France, and according to a 2011 Edistat study he holds third place on the list of authors who have sold the most books in France since 2008, just after Stephenie Meyer and before Harlan Coben. Some 11 million copies of his novels have been sold worldwide and they have been translated into 34 languages.
---
Showing 1 to 14 of 14 (1 Pages)