Guillermo del Toro, Daniel Kraus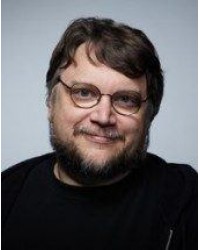 Guillermo del Toro Gómez (born October 9, 1964) is a Mexican film director, screenwriter, producer, and novelist. In his filmmaking career, del Toro has alternated between Spanish-language dark fantasy pieces, such as the gothic horror films The Devil's Backbone (2001) and Pan's Labyrinth (2006), and more mainstream American action films, such as the vampire superhero action film Blade II (2002), the supernatural superhero film Hellboy (2004), its sequel Hellboy II: The Golden Army(2008), and the science fiction monster film Pacific Rim (2013). The fantasy The Shape of Water (2017), received critical acclaim and won a Golden Lion at the 74th Venice International Film Festival. Del Toro won a Golden Globe and received an Academy Award for Best Director nomination, both of which were his first.
He was originally chosen by Peter Jackson to direct The Hobbit film series. He left the project due to production problems, but was still credited as co-writer for his contributions to the script.
In addition to his directing works, del Toro is a prolific producer. His producing credits include films such as The Orphanage (2007), Julia's Eyes (2010), Biutiful (2010), Kung Fu Panda 2 (2011), Puss in Boots (2011), and Mama (2013).
Del Toro's work is characterised by a strong connection to fairy tales and horror, with an effort to infuse visual or poetic beauty. He has a lifelong fascination with monsters, which he considers symbols of great power. Del Toro is known for his use of insectile and religious imagery, the themes of Catholicism and celebrating imperfection, underworld and clockwork motifs, practical special effects, dominant amber lighting, and his frequent collaborations with actors Ron Perlman and Doug Jones. He is also close friends with fellow Mexican filmmakers Alfonso Cuarón and Alejandro González Iñárritu, collectively known as "The Three Amigos of Cinema"
---
Daniel Kraus is an American author.
Kraus was born in Midland, Michigan and grew up in Iowa.
In 2009, Kraus published his first novel, The Monster Variations. This book was included on the New York Public Library's "100 Best Stuff for Teens" list in 2010.
His second novel, Rotters, was published in 2011, and won the 2012 Odyssey Award, the Parents' Choice Award Gold Award and was a finalist for the Bram Stoker Award. It was also chosen as Booklist Editors' Choice for 2012 and was included on the Bulletin of the Center for Children's Books Blue Ribbon List 2012. It was produced as an audiobook, and was subsequently included on the American Library Association Amazing Audiobooks List 2012.
In 2013 Kraus published the novel Scowler through Delacorte Books. This book won a 2014 Odyssey award.
Trollhunters, published by Disney Hyperion in 2015, was co-authored with Guillermo del Toro, and is set to become an animated series.[12]
In October 2015 Kraus published the first half of a two-part epic called The Death and Life of Zebulon Finch. Volume 1, At the Edge of Empire, was an Entertainment Weekly Best of 2015 title. Volume 2, Empire Decayed, will release in October 2016.
He lives in Chicago with his wife.
---
Showing 1 to 1 of 1 (1 Pages)