Joanna Faber, Julie King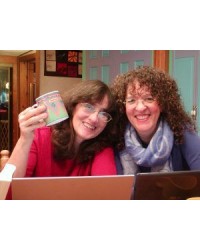 Joanna Faber grew up in the Long Island home/laboratory of internationally acclaimed, best-selling author and parent educator Adele Faber. She completed a Master's degree in Special Education and post graduate work in teaching math and science at the City College of New York. She taught bilingual students in West Harlem for ten years and contributed heavily to her mother's award-winning book, How to Talk So Kids Can Learn, with her front line experience in the classroom.
She recently wrote a new afterword for the thirtieth anniversary edition of How to Talk So Kids Will Listen & Listen So Kids Will Talk. She lectures on communication skills around the country and conducts workshops based on her mother's work and her own experiences as a parent and educator. Joanna lives in the Hudson Valley region of New York, with her husband, three sons, dogs, cats, and an assortment of chickens.

Julie King has been educating and supporting parents and professionals since 1995. In addition to her work with individual parents and couples, she leads workshops and gives parent education presentations to schools, nonprofits, and parent groups. Julie received her AB from Princeton University and a JD from Yale Law School. She lives in the San Francisco Bay Area and is the mother of three.

---
Showing 1 to 2 of 2 (1 Pages)