Esther van den Berg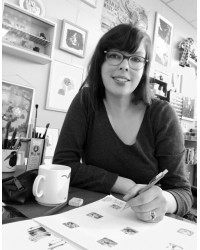 Esther van den Berg (1982) studied illustration at the art academy in Kampen, where she also grew up. At the academy, she liked to stand with her fingers in the black ink of one of the printing presses. After a good turn, etchings, linocuts, and monotypes appeared on the other side of the printing press.
After her graduation, she left for Randstad and worked as a designer. Only eight years after her graduation it started to itch again; she had to start drawing again! Under the name puikeprent she tried new things as an illustrator.
Nowadays Esther largely makes her illustrations digitally. Because of her artisanal education, she is always looking for the right texture and a hand-painted feeling. Her prints are atmospheric, with an eye for detail, often with a wink.
---
Showing 1 to 1 of 1 (1 Pages)